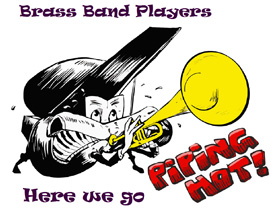 Educational * Fun * Trendy
Band Practice held at: to be confirmed.


See the music performed live at our Events
An advertising example of one of our concert events, see the gallery for more similar events
Welcome to our Piping Hot
Brass (PHB) Website
Introducing our Brass Music Club, designed to encourage students of all ages in the North West of the UK to play a musical instrument. The overall aim is to build a brass band capable of entertaining the public, and at the same time offer an opportunity to the local community for the enjoyment of music together as a band.
ABOUT...
Our musical director is professional musician and DJ Keith Harrison, his experience comes from years on the entertainment circuit around the UK, and from teaching students in the art of performance. Keith has always produced his own work, and kept up to date with technology, this includes studio recording, sound & lighting.
Entertainment has clearly moved into the digital age, and along with normal training techniques, we believe it is important to study the work produced by some of the best studio recording musicians from around the world over the past six decades. PHB has stripped back some of the music arrangements, to adapt this wonderful style of music into a brass training program.
Music is generally accepted as one of the most important forms of our leisure time activities. The club music policy takes a wide range of styles from these three categories:- Street Band - Big Band - Brass Band.
For our younger generation, this is primarily a music members club for families by appointment, and not a club where you leave your children with us, all the family are encouraged to play a musical instrument if they wish.
Interested in joining, but know little about the musical instruments? Please read the club membership page for opinion on the suitability of instruments for children within this program. We would always recommend that you seek professional advice.
Contact Keith Harrison
Tel: 01254 677936
Mob: 07944 887467
Contact Piping Hot Brass: --->Email